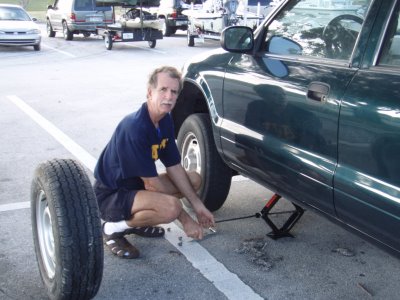 Well, $890 later, we have the Kia back. Plus, of course, the outrageous car rental, $322 for a total of 3 days. It was a nice car, the only car available in the Homestead area at 15 minutes before closing on Christmas eve. But still!!!
And we essentially got a front end overhaul on the engine (new waterpump, new thermostat, some new seals, etc). Made sense as long as they were doing $500 in labor to get to that area.
However, as we got up to speed on the Turnpike, headed back north, we noticed a bad shimmy in the car. (bad words!) I was afraid the guys at Precision Auto Tune in Homestead had somehow damaged the front end. We stopped at the Snapper Creek service plaza to have a look, and Dave found that our left front tire had broken a belt. So we had to change the tire. Fortunately we have a good spare, and were back on our way soon.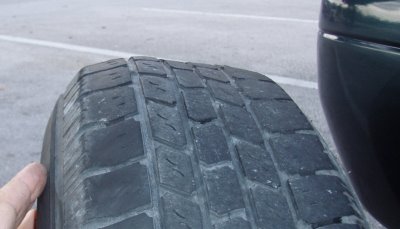 Lumpy Tire
On the way down, we called the shop and they said the car wouldn't be ready til 2pm. So we stopped off in Ft. Lauderdale and visited Sailorman and Blue Water Books. We also had a nice long phone conversation with Dave's friend Paul Furstenburg, who called us while we were in Blue Water Books.
Though we saw lots of really good books we'd like to have, our bags are already full and we can defer buying western Pacific books until next year. We already have pretty good coverage through the Galapagos, French Polynesia, and everywhere else we are going until the end of 2010, when we'll be in Hawaii and be able to get the rest of what we need.
Due to delays at the shop, and the tire change, we missed Nicki's Christmas Dinner by 5 hours. But she saved us leftovers. So we had our second Christmas Dinner last night at Nicki's. And we got to watch our family Christmas classic movies: Emmet Otter Jug Band Christmas and The Grinch Who Stole Christmas.
It was nice meeting Phil's family. And Nicki made a fantastic dinner.
Only 2 days til we are winging our way back to Costa Rica! Today is packing day. Tomorrow is 'drive to Hawthorne and drop the car off', and Tuesday we fly from FTL on American.
Labels: USA 2008