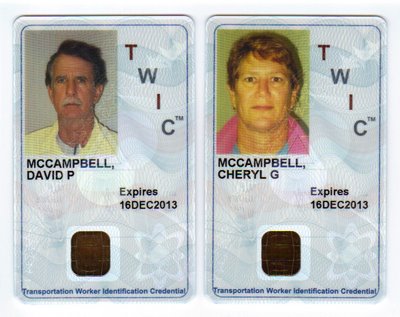 Our TWIC Mug Shots (UGH!)
One of the things on our list for this trip was to get our 'TWIC' cards. TWIC stands for Transportation Worker Identification Cards.
Someone in the .gov realm decided that to make the ports safe, everyone who has 'real business' in a port must have a chip-encoded electronic-finger-print-protected background-checked ID card. And the US Coast Guard decided that, to put some teeth in it, any USCG-certified professional mariner MUST get this card, whether they need it or not.

Note that anyone with a 6-pack Captain's License is considered a USCG-certified professional mariner.
So even though we really do not currently need this $120 apiece ID card, we need it to keep our Captain's Licenses valid.
We talked to someone from Sea School and they advised to wail until April (the final deadline) to get it, because Sea School and probably other similar low-level licensing people are fighting it. But we couldn't wait.
So on one of our trips over to Largo to see (Dave's cousin) Bryan, we made an appointment and stopped in at the Port of Tampa to get our cards applied for. They told us it would be 4-6 weeks to get them done and we could only pick them up in Tampa. We were suprised when, only about 3 weeks later, we were notified that the cards were ready.
So we made a special trip Friday over to Tampa and back just to pick up the cards. We managed to squeeze in a turkey leftovers lunch at Bryan's too.
If you have a Captain's license and want to keep it, below is the link to the place to start. Other than the cost, it is very easy. We could have done it in Port Canaveral if we'd had the time or the foresight to schedule an appointment there.
https://twicprogram.tsa.dhs.gov/
Labels: USA 2008