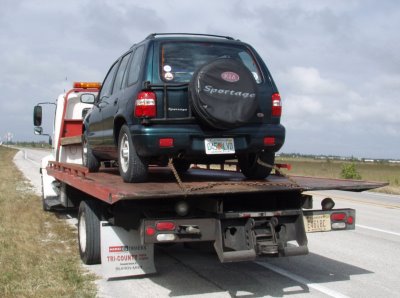 Well, we pulled out of Marathon about 10am on the 24th, headed for 'home'. We made it past Key Largo and were on what is called by locals as the Death Stretch. It's the 18 mile portion of road between Key Largo and Homestead that used to very accident-prone.
(They have since made improvements on the road, so it's probably not called that by the Tourism Board anymore). But it killed our poor Kia. One clunk and the engine quit, out in the boonies.
Fortunately we had a Triple-A card and the tow-truck was there within about a half hour. AAA had a local auto repair facility on their list. So we called them to make sure they were still open and could diagnose the problem. Well, it was 2:45 on Christmas Eve when we pulled in in the tow truck. Everyone was anxious to get going on their Christmas holiday.
The mechanic took a quick look before they locked up, and said he thought it was the timing chain. IF (a BIG if), it didn't destroy anything when it broke, it could be repaired tomorrow. Our mechanic friend told us there's a 50/50 chance it didn't cause any additional damage. They promised to take a good look at it first thing in the morning--hope to hear the verdict fairly early tomorrow morning, so we can figure out the plan to get the car back.
We managed to secure an exhorbitantly priced rental car from the Enterprise Rent a Car place down the street, just before they closed (all the other rental places were closed or out of cars, or a $50 taxi ride away at Miami airport).
Anyway, by 3:30 we were back on the road in a nice (but expensive) car, and we actually made it to our planned dinner with Nicki and Phil in Melbourne, with 15 minutes to spare!
The simplest scenario will be that the car gets fixed by the end of the day tomorrow. We'll drive down Sat am in the rental and get it. (7 hrs R/T). If it DOESN'T get repaired, then we've got to scramble to find someone who can go get it for us after it gets repaired. We're leaving for Costa Rica Dec 30 no matter what (I think).
Just one more wrinkle in our eventful trip to the US this holiday season!
Labels: USA 2008