We are not sure when we are going to have as easy access to such a great variety of reasonably priced stuff. So we've been stocking up.
In the past week, we have bought 5 cases of rum in liter bottles and 3 cases of wine in liter boxes. And another $300 worth of groceries (that's on top of the $500 we bought 3 weeks ago).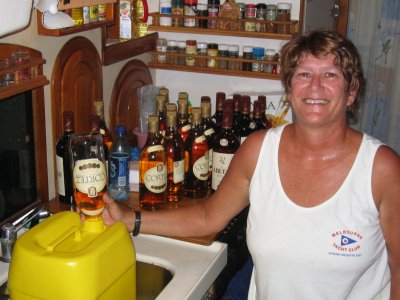 And yesterday we did a final shopping, with friends Jim Yates and Dorothy Sheridan along. Everyone got a chance to see what a good Panamanian grocery store is like, and pick out their favorite brand of cereal, etc. (Meanwhile Dave and Ron were back at the boat swapping water maker pumps).
Stowing all that stuff has been fun, especially with Dave and Ron still with their heads in the engine room, and all the 'stuff' that normally lives in V-berth out in the salon.
On advice of some friends who have preceded us across the Pacific, we decanted 36 liters of rum into 2 5-gallon water containers. This makes a very space-efficient storage location, no glass, no cucaracha-laden cardboard boxes, only the weight of the rum itself. It also makes the rum less visible and therefore less likely to be taxed or confiscated by a Customs guy. The rest of the rum was 'socked' (each bottle put in 2 old socks for protection) and stored in nether lockers.
We bought our rum from a local guy who came out to the marina with a brochure, and he delivered it 4 hours later. (Umberto 6706-1015). We paid cash on delivery, $60/case for the good stuff and $45/per case for the mixing rum. Plus a $10 delivery fee. He has lots of other liquor in his brochures, and will sell individual bottles.
The boxed Clos brand wine (from Chile) we just bought at the grocery store for $2.09 per liter. That's a heckuva deal. There are better wines, but if you stop drinking 'the good stuff', the Clos is very drinkable, and the price is right. And this stuff is so much more convenient than wine in bottles. No bottle to break, less weight, much better storage form factor and much easier stowage. We put most of the wine under our bed. Dorothy did a great job of packing things around in there (while I was stowing stuff in the fridge).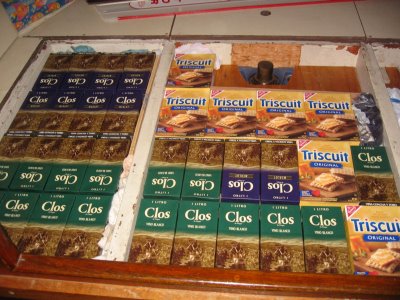 Note the boxes of Triscuits... Jim Yates brought a case with him from the States. That is one of the few items we have been unable to find in Panama.
So we are well stocked, with plenty of food for the 5 of us for the next 10 days, and then enough staples to last Dave and I quite a long while.
Labels: PanamaCanal, PanamaCarib, Provisioning