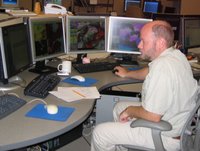 After dinner last night (Thai Restaurant in Key West) we went with Dave's friend Don Byrd to the NWS Key West Office and got a personal weater briefing from Matt Russell, the Chief Meteorologist in Key West.
Bottom Line: There's a little bit of a low forming up in the SW Caribbean, and until that low either forms up or goes away, the models are forecasting conflicting information. But current forecasts are for E-SE at about 10 kts. If the low forms up, it is supposed to move off toward the North, so it probably won't affect us directly, but may make the wind 'variable'.
Matt invited us to call him on the satellite phone once a day and exchange a conditions report, in exchange for a weather update.
Right, Matt at his desk. (cool computers)!
We are going! (Dave is waiting for me to finish this post to unhook the docklines.) Dry Tortugas tonight, onward for Beliza (via the NW Cuba coastline per Nigel Caulder's recommendations for getting to the NW Caribbean).
Labels: Florida Keys