The Refer is ON!!!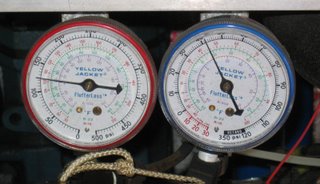 Well, as usual, it took a *little* longer than the half a day that Dave estimated. But also as usual, he did a primo job, so everything went in better than it came out, and is all shiny and neat.

As of 5 minutes ago, with 5 minutes of running time, the compressor was running fine and the plates were cooling.

Here are some photos of the freezer going back together.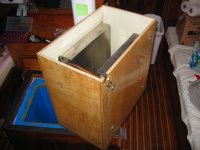 This is the removable plywood/epoxy box with the plates inside sitting on a heavily insulated box. The upper box slides down inside the blue insulation. This is so the system can be easily removed to be taken off and worked on.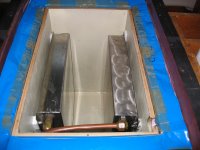 To the right you can see the plywood box now down inside the insulated box. On the lower right is the hole that the pipes go thru to connect up to the compressor system.

Below, located on a shelf above the engine, in the engine room, is the compressor setup. In the foreground, the shiny silver thing is the evacuation pump (attached temporarily to pull a vacuum on the system). The compressor is behind the evacuation pump. The gauges provide readings on tempurature and vacuum status.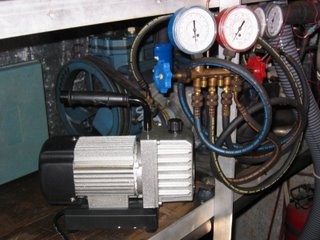 This was the last major project we had to complete before we could leave. Now we just have to finish up about 20 minor ones! (ie time to get off this stupid computer and keep working on my list!)
Labels: Satellite Beach FL