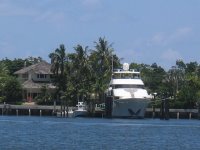 We are sitting anchored in Old Port Cove, a nice lagoon lined by ritzy houses and condos at the north end of Lake Worth, in North Palm Beach.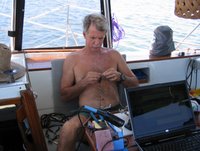 We decided to take a lay day to let Memorial Day go by and wait to travel the West Palm to Lauderdale run when most of the crazies are back at work.
Rumour has it that this yacht belongs to Jack Nicklaus. And left, a photo of Dave fixing the windlass control cable.
Yesterday we did 11 bridges, 7 of them drawbridges, and 4 fixed bridges. The fixed bridges are easy for most people, but we have such a tall mast that we have to make sure no big wakes are going by when we go thru, and then inch up and go thru slowly. It's impossible to tell from deck level whether you're going to clear. (and I don't trust the posted height boards). Most of the bridges we went thru yesterday were over 65'. (in Melbourne they are 63-64', which is close enough to make our VHF
antenna hit). The draw bridges were not too bad except when we got near Palm Beach, they were all on a schedule, and we had to keep pushing to make the next opening.
We went hard aground once... 6 feet inside the channel marker in Jupiter Inlet. I thought we were never going to get off... the current was wicked and pushing us on, as was the wind. But Dave just assessed the situation and decided to try blasting off first. We were successful in inching off without any assistance.
We also had to shut down the engine once. One of the injector connectors was leaking fuel. Dave insisted we had to shut down RIGHT NOW and fix it. We were in a narrow part of the waterway--no anchoring room. So we inched over to the side, threw our anchor over in 5', and sort of lay ahull along the bank while Dave made the repair. He was done in 10 minutes and we were only a little aground, so it wasn't hard to get moving again.
The wind forecast is still indicating stiff Easterlies for the next few days. We'd hoped to be able to go outside and do some sailing ... at Ft. Pierce ... then at West Palm. But we aren't really ready for 6-8' seas on the beam (too much stuff unstowed). Now our latest plan is to motor down to Ft. Lauderdale on the inside tomorrow and then see what it looks like. We have to go outside around Miami anyway, so if it is still blowing like stink on Wed, we'll pop back in at Miami and go down Biscayne Bay to Pumpkin Key. There we can pop out at Angelfish Creek and be behind the reef and heading SW away from the wind. So we estimate ETA Marathon about Thursday at the earliest.
Labels: ICW