Diving The Nursery
Vava'u Tonga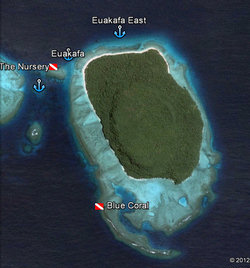 Location
18°44.668'S / 174°02.544'W
NW tip of Euakafa Island (near Anchorage #32)
General Info
This is a good spot to either snorkel or dive. You can anchor the big boat on the narrow shelf on the north side of the island, or on the sand mound SW of the bommie, at approx 18° 45.44'S / 174° 2.62'W.
Dive Profile
This dive is off a 'bommie' (coral mound) that is in a channel between two reef areas. The current can be running quite strong in the channel and on the top of the coral mound. It generally runs north on a falling tide, and south on a rising tide. The best area for diving is on the north side of the mound. So it is best to dive this spot either at slack tide, or on a falling tide, when the current is running north. With a northbound current, on the north side of the bommie, once you are on the bottom, you are protected by the reef from most of the current.
This spot is called The Nursery because of the huge number of small fish. There are hundreds of all shapes, sizes, colors. Nice live coral in this area and some huge coral structures.
Notes