Yesterday, on our way around the east coast of Isla del Rey, we went to see what the locals call 'the Japanese Submarine', on the north coast of Isla San Telmo (St. Elmo).
Though everyone, including the cruising guides, refer to it as 'the Japanese submarine', we understand that it is really a 1860's pearl-diving submarine.


A marine archaeologist friend of Dave's by the name of Jim Delgado was here in 2001 and thought it didn't look very Japanese-like. He was very familiar with Japanese sub construction after spending years in the Pacific documenting Pacific WWII ship wrecks.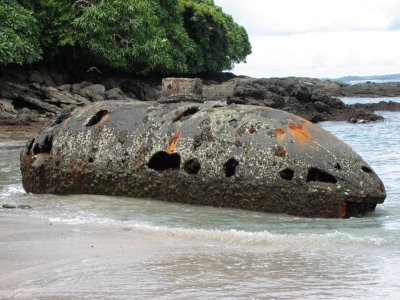 After encountering the sub on the beach while on vacation, he researched it some more and after spending time here again in 2002 and 2004 with several friends, including Larry Murphy formerly of the National Park Service, he eventually established that it was a "lost" pearl-diving submarine, 'Sub Marine Explorer', built by a German engineer in 1865. It is one of only 5 surviving submarines built before 1870. Read about the find here. Jim Delgado, the archaeologist, is a former historian with the US National Park Service, and is now the director of the Vancouver BC Maritime Museum. He and Dave worked together in the Pacific in the late 1980s, documenting Japanese wrecks.


To sum up the history of the Sub Marine Explorer... a German engineer, Julius Kroehl, built the sub in 1865 to do pearl diving in the Las Perlas islands. But they didn't know about 'the bends'... a problem that occurs when breathing compressed air at deep depths and then surfacing without properly decompressing. The boat arrived in Panama in Dec 1866 and did make several successful pearl dives to deep depths, but by Sep 1867 the engineer and all the sub operators died of 'the bends'. The next/last documented attempt to use the sub occurred in August 1869 when over a period of 11 days it recovered $2K worth of pearls (a LOT of money in those days). But again, soon after, all its crew died of the bends. The sub was then was abandoned, apparently beached on San Telmo and left for good.


The Bauhaus Panama guide book mentioned the sub, but only that it was a Japanese sub on the north side of San Telmo. So we got on the VHF and got a waypoint from s/v Carina. Our Tides & Currents 3.0 program seems to be pretty accurate, and it indicated that low tide was about noon. So we set out from the Punta Cocos anchorage (S end of Isla del Rey) and arrived right about noon.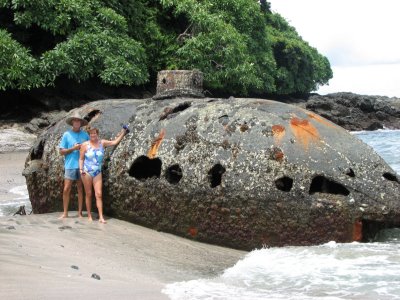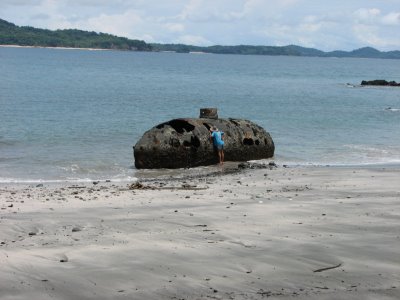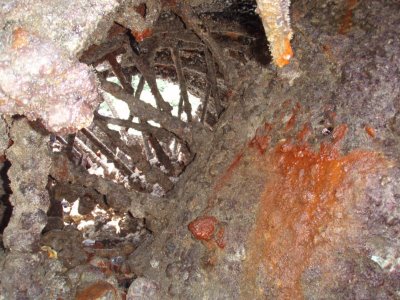 The sub was clearly visible on the beach at low tide, but would be covered at high tide. It was shaped like a fat cigar and is pretty large. I am amazed at how well-preserved it is after sitting in salt water for 150 years. We took a zillion pictures and will post some here as soon as we get internet.


Sub position: 08-16.896N 078-50.743W
Our anchorage: 08-17.050N 078-50.801W (day anchorage only, in settled weather)


There is an uncharted rock/reef outside/north our anchored position that was visible at low tide at APPROX 08-17.136N 078-50.815


On a settled day with a fast dinghy, you could also dinghy to see the sub from the Punta Cocos anchorage.