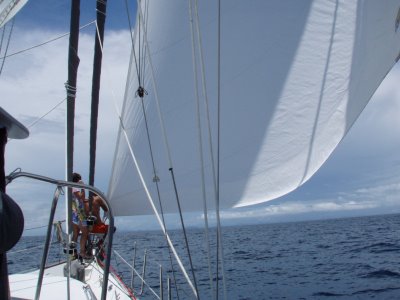 Dave has been talking about getting a Code Zero sail ever since I met him. On our first date, he showed me the Facnor roller furler that he had just purchased for it.
We have looked on all the used sail sites on and off for the past 2 years, and have been unable to find a used sail that would work. And by the time you buy it used and have it modified to do what we want with it... We talked to a few sailmakers at the last St. Pete boat show, and got some quotes. They were pretty expensive (in the $2000-$4000 range), so we put off doing anything.
But as the price of diesel fuel has been rising, and as we've been motoring around in light winds all summer long, we finally justified the expense by talking about cost savings at approx $4.50 per motoring hour here in Panama and probably more than that out in the South Pacific.
So with the ability to ship stuff to Panama pretty easily via Marine Warehouse, we went ahead and ordered a new Code 0 from Dave's favorite sailmaker (SuperSailmakers in Ft. Lauderdale, a Doyle loft). We took delivery of the sail in Colon just before we left... didn't even have a chance to get it out of the bag, though.
Finally, sitting on the mooring in Balboa, Dave hauled it out and he and Jim Yates (one of our visiting line handlers) rigged it up and got it rolled onto the furler.
With great anticipation, we rolled it out on our way to Taboga. It seemed the conditions were perfect... light winds on the beam.
It lasted about 10 minutes before the wind came up a little and broke the block at the top of the mast. Rats! And with the rise in wind came a wind shift... on our nose again.
The next day before we left the mooring, Dave found a replacement block and went up the mast to replace the broken one. (The cheek broke).
But on our way from Taboga to Contadora, the wind was almost on our nose the whole way. And, the distance was 40 miles to the closest anchorage, so we couldn't afford to stay out there messing around with sails all day. So we motored again. But we did notice that the lower attachment point of the sail, on our anchor tray, as far forward as we can put it, wasn't working out as anticipated. (the tray was lifting off the frame as we tensioned the luff).
So yesterday, hanging out at anchor at Isla Pedro Gonzales, Dave and Ron and Jim engineered a cobbled-up fix to the problem. I was busying doing other things, but there were sawing and drilling noises coming from the workshop. I'm sure Dave will explain the final solution when we have it working well. About dusk they seemed satisfied that what they had whipped up would work for now.
We are hoping to be able to sail today. We have 20 miles to go to the next anchorage.
Labels: PanamaPacific