We have been here for a couple of days now. We made it into Boot Key just before really squally weather hit. Had not been settled on the mooring for more than 30 minutes before the first bout of rain and wind hit. This continued all night and all the next day. On Friday night we heard that it had been upgraded to a tropical storm and named Barry. We thanked our lucky stars several times over the next 2 days that we had pushed on and made it into Marathon. It nice to be in an enclosed harbor on a secure mooring, and where we could get off the boat easily (between squalls).
By late Saturday morning, we could see a little blue between the clouds. By noon we had a nice sun (though some intermittant squalls came thru during the day).
And yesterday (Sunday) it was just plain gorgeous. We are finally in the "Fabulous Florida Keys". (in Marvelous Midtown Marathon).
We had to hold off on the engine project until we were getting enough sun to keep the batteries up with solar. But yesterday we ran out of excuses, so Dave and his friend Jim took the head off the engine. Dave's doing a run to Napa today to get some parts and by Tues or Weds it should be back together.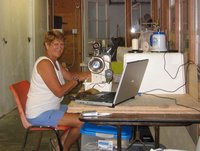 Meanwhile, the cockpit cushion recovering project has become my highest priority (finally). I hauled the sewing machine into the work area at the City Marina and spent yesterday working on recovering the cushions. I got the prototype done by noon and got it approved by the captain. I should be able to finish this project today.
We have been socializing a lot. Dave lived in Marathon for about 15 years, and spent the last 4 or 5 in the Boy Scout charter program. He lived aboard several times in Boot Key Harbor also. So we are getting hailed all the time by old friends. We are both really enjoying a return to the cruising life.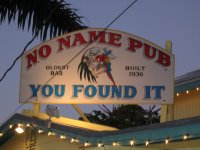 We had a nice dinner last night at the
No Name Pub
on Big Pine Key with Ed and Daisy, some CSY friends of Dave's. There was a 50 minute wait to get in to eat, so Ed drove us around No Name Key.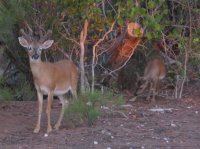 The Key Deer were all over the place! I have only glimpsed one or two in all the years I've been in and around the Keys (they are hard to see at 65 miles an hour!). We saw maybe 20 last night, driving slowly around the semi-residential streets.
We plan to stay here a couple more days to finish the engine project, hopefully fix the radar, and do yet another tweak on the refrigeration system. We expect to head for Key West about Thursday, and stay there a couple of days before starting to look for a weather window south to Belize.
Labels: Florida Keys