A Little About CSY Sailboats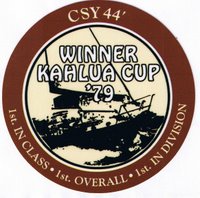 CSY yachts were built for the international charter trade and were intended to be world-capable cruisers. (For more about that, see Jack Van Ost's remembrance)
Proof that the concepts were valid is the worldwide address book of current owners. While many owners live in the United States, others reside in Panama, Scotland, Sweden, Italy, New Zealand, Tahiti, Trinidad, Bermuda, Holland, Puerto Rico, British Virgin Islands, Costa Rica, and the Abacos. The diverse CSY community includes a trial attorney, a retired navy commander, a former New York City fire fighter, and a commodore of the Pedro Miguel Yacht Club in Panama.
Initially, CSY contracted for the manufacture of their vessels, not for private sale, but for use in their company-owned charter business. After several unsuccessful attempts to obtain the desired yacht from subcontractors, founder Jack Van Ost, described by one CSY spokesperson as "unpretentious flannel shirt and blue jeans kind of guy, a gentleman who could do business with a handshake," had 60 pre-sold boats to produce. The decision was made to manufacture their own fleet.
The first CSY was launched in the brutal winter of January 1977 in Tampa during a snowstorm. CSY management refined their designs through charter client questionnaires and dialogue with charter captains, yacht charter managers and dock masters to compete with rival charter fleets of Morgan Out Islands, Gulfstars and Irwin yachts, said Shelley. The result was a roomy and robust sailboat with emphasis on structural integrity rather than on finish work. "The good news is that the CSY sailed past the Morgans at almost every opportunity," said Van Ost.
In their heyday, CSY turned out one boat each workday, and produced in the neighborhood of 400 vessels, with approximately 185 boats in the charter fleet. CSY Yachts manufactured a few powerboats, but the vast majority were sailboats; a 33-foot, 37-foot and three versions of a 44-foot, a walkover, walkthrough and pilot house.
The majority of CSY employees were passionate about boats. The kind of folks who, after a long workday, engineered boat systems on the back of napkins at Jim Bradford's bar next door to the CSY plant. The adaptable draft keel, which could be shortened by a foot, was a "radical concept which ran against the grain of every naval architect," said Van Ost. After charter service, the keels of CSY yachts could be easily modified to meet the needs of private owners in shallow areas such as the Chesapeake, the Bahamas or Florida. He recalled with pride the Annapolis boat show where CSY was "the standard against which everything else was compared."
The eventual demise of the company was due to a bad economic turn; skyrocketing oil prices and high interest rates. CSY turned to the recreational boat market for financial relief but was unable to recover. In the end Van Ost refused to compromise construction quality to make a buck.
Jack said that for him, the CSY experience was "good, sad, and funny," and despite the difficulties, "by and large, we still smile when we think about it."
"Twenty-five years later, I have to say it was a good company, a very good boat and good people."
---
CSY Quality
A CSY Advertisement from a Sailing Magazine in about 1978
The Mold
No part that comes from the mold can be better than the mold itself. It is a truism. And by the same token, no mold can be better than the "plug" from which it was made. Here is the sequence.
From the finished architect's drawing board comes the finished yacht design from which an exact full scale model or "plug" is built. Months go into its preparation. Every mark, every unevenness must be sanded and buffed until a perfectly smooth high gloss finish is achieved. There can only be one criterion in this stage--the best! Hang the cost--for everything that comes after is only as good as what is done now. Then and only then is the mold begun. Over the waxed plug there is created layer upon careful layer of fiberglass to create the mold. To avoid distortion in the final product, each layer must harden and cure for a specific period of time and then carefully be ground and sanded. Then a welded steel framework is glassed into place. Now the mold is ready to begin turning out parts. The more perfect it is, the more perfect will be the parts it produces. In order to carry out this whole process it takes many months and the tender loving care of a very cranky yankee who won't let us stop or hurry up any part of the process until it is exactly right.
When production begins, it is very important to build up the laminates gradually and to allow time for each to set. When they have set, each laminate is ground and sanded smooth before th enext layer is applied. Time and care are the secret. A properly laid up hull cannot be rushed. Time is money. You can layup the same laminate in 2 days or in 5. The difference is quality.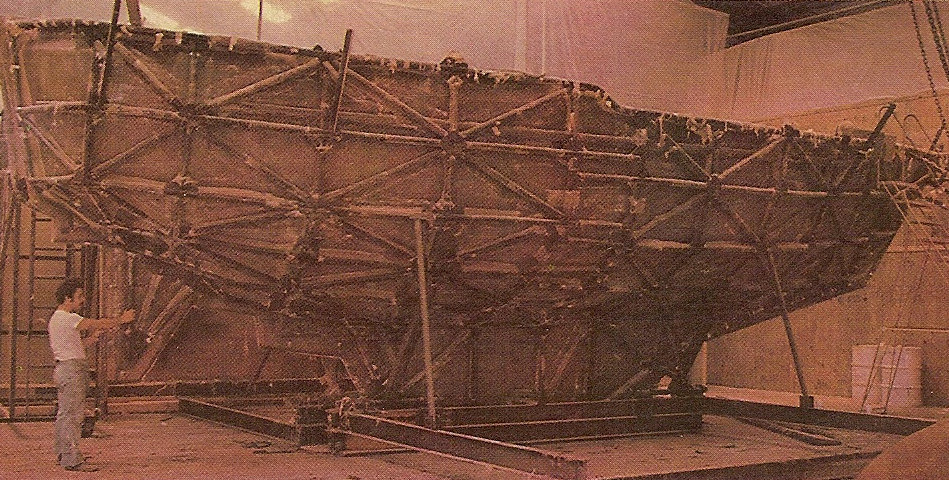 The CSY 44 Mold
The Hull Layup
No mold can be any better than the amount of care and time that is spent to properly clean and wax it between the production of one part and the next one.

Too little wax or wax unevenly applied can spell disaster for a new hull or the mold itself!

This is another truism and a very important one.

The first layer to go into the mold is the gel coat. There are 2 types of gel coat, organic and inorganic. The latter, which CSY uses, is 1/3 more expensive. It dries harder, and it holds its color and high gloss longer. It's so easy for a manufacturer to skimp here, but you won't discover it for at least a couple of years.

The gel coat is laid down carefully from 18 to 25 thousandths of an inch thick. If it is too thick it will cure unevenly. If it is too thin, it will 'craze' or 'alligator'. Care and precision are essential, as in every other part of the production of anything, including a boat.

Next comes the layering or laminating of the fiberglass in the form of roving and mat carefully rolled out in resin. The right way to create these layers is the slow way. Step by step, layer by layer, with plenty of time between applications for the laminate to set and to be sanded smooth.

At the CSY Yacht Corporation, we use twice the number of layers of mat and roving than is recognized by the industry as an "adequate" layup. At the turn of the bilge, our layup approaches two inches.

Why so thick? For that once-in-a-lifetime moment when a stronger hull can save the boat--and your life. A hull is the foundation of a boat, the same as it is with a house. A thick hull is a strong foundation which translates into bulkheads, doors and engine beds that don't shift, and always fit.

Guidelines set by the Society of Naval Architects consider an acceptable flexural strength for a fiberglass hull to be between 25 and 20 thousand pounds per square inch (psi). CSY's hulls test to an average of almost 36 thousand psi because of the time and care and additional materials that go into the layup.
The Deck
The decking on all CSY yachts is solid glass laid up to the thickness of most hulls. This is a great deal stronger than any sandwich type construction of balsa or foam or plywood squares. Exceptionally durable. It won't rot, it won't mildew, it won't leak.

Joining the deck to the hull is a crucial operation because no matter how durable both pieces are, if the joint is weak or improperly prepared, you're in for trouble. What has to be remember about a hull-to-deck joint is that it has to 1. be flexible. 2. it has to have a mechanical hold to keep the deck and the hull together as the flexural stresses of each differ. 3. if possible and most important is that the joint can accommodate 1. and 2. and still keep your boat together, forever, and still keep the boat dry.

Here is how CSY does it. First a flexible sealant, 5200 by 3M, is placed in the joint when the deck is placed on the hull. Then #4 stainless steel screws are set every 8 inches to keep the alignment of the deck and the hull. Next, heavy 5/16" stainless steel bolts with lock washers and nuts, secure the deck to the hull on 8" center. Over this a teak toe rail is placed which is also screwed through the joint every 12 inches. If there is a better hull-deck bond in the industry, we don't know about it.

Hatches: All CSY decks are designed with high 4" coamings to receive all hatches. Then we build heavy hatches, which rest on gaskets on top of the coamings to make a seal. Even if the gasket doesn't seal or deteriorates, there has to be 4 inches of standing water on the deck before a leak can begin, even if the hatch is not dogged down!

Thought has gone into the design of the CSY deck. And it pays off. It pays off in safety, and it pays off in dryness, which has to be the most important element in comfort on any boat.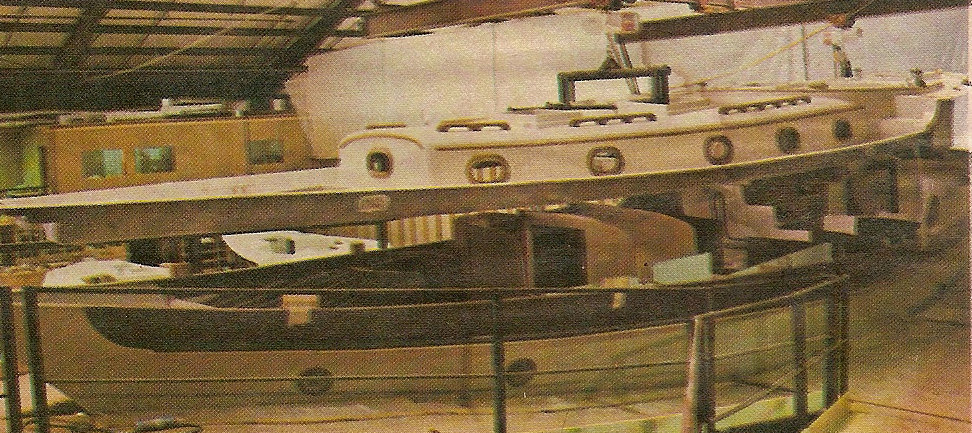 The Final Check

Constant quality control is the most crucial consideration in the process of building a boat to a high standard.

Our boats are built on nine stations with four days on each station. At the end of each day, there is a quality inspection to assure everything is being done to our standards. Then when the boat is ready to go out the door, it is held up for an entire day for it's final pre-launch inspection.

In the old days, no self-respecting boat builder would ever consider delivering a boat that had not been given a thorough series of in-the-water boat trials.

Today the boat buyer is lucky if his boat is even put in the water, let alone sea-tested and checked out before it is delivered to him.

At CSY we're old fashioned.

Prior to delivery we take every yacht we build through a comprehensive battery of trials, tuning the rigging, checking the sails, inspecting for misalignments and discontinuities. We give the engine a 24 hour check. We take her out for a test run under full sail and under power. When all systems have been checked and rechecked, and the yacht is deemed ready for delivery, the boat is turned over to the owner.

At this state, back in the good old days, the owner would conduct his own "Owners Trial" or "Acceptance Trial", taking the boat out, subjecting it to his own scrutiny and returning with any criticisms he had for correction.

We welcome this old fashioned concern for excellence and encourage all new owners to conduct their own personal sea trials.

It assures us that we are delivering a quality product, and assures you of the same thing.
The Engine
CSY uses Westerbeke engines on all of our yachts. Westerbeke is a small family firm who can afford to take the time to customize our engines to meet the exacting specifications that CSY has learned over the years are needed to make the engines as trouble-free and as maintenance free as possible.

The Hardware - Blocks, Spars, and Rigging

We have tested hardware from A to Z in all conditions. We never standardize on anything unless it works. We have everybody knocking on our door to sell us their wares.

Our laboratory is our charter business. If it works there, we know it will work on your boat. We only buy what we know will work and will last, and that which we have tested.

Unlike most other manufacturers, we don't buy because of price. We buy the best, regardless of price.

The Steering

Edson steering systems are standard aboard all cSY yachts. Edson uses stainless steel chains as a driving mechanism, and then it changes over to wire around sheaves to a quadrant attached to the rudder post. CSY extends the rudder post and machiens the top of it so an emergency tiller can be attached if one of the steering cables should let go. Edson equipment uses steel needle bearings which give a smooth, good "feel" in steering. For the wheel we prefer the Edson smooth, all stainless steel destroyer wheel because it is corrosion proof and trouble-free. But the final and most cruicial step is in the design and the care in the installation of the system.
Storage

Good storage can make or break a boat for whoever has the job of keeping things neat below. Here are just some of the storage facilities aboard all CSY yachts. For each one on boat: 12"-18" of linear space in the hanging lockers, 2 large bunk-sized drawers, a private drawer in the head, bunk-side shelves. For keeping things together--dry storage for bedclothes and pillows, instrument, book and chart storage, clothes hampers in each head, extra linen storage, dry shoe storage, tool storage drawer, odds and ends drawer, 4 or 5 galley drawers, space under the sink for storage, a pots and pans locker, dish locker, a glasses and bowls locker, bug and odor-free garbage storage. Spice rack, liquor cabinet, cockpit cubbyholes (for winch handles, etc) Bib, big sail lockers to hold extra sails, fenders, cushions, lines, outboard, anchors, everything. An on-deck 'dirty' locker. A beer cooler next to the helmsman in the cockpit. Vented propane storage (3 month supply). Split anchor rode storage (250' of line plus chain per bin). There is room aboard to store 3 full weeks of provisions (3 weeks of perishables, 3 weeks worth of ice, 3 weeks of frozen food--in a mechanical refrigerator. The list goes on and one. Planning ample storage means a comfortable home afloat.
Ventilation & Dryness

Without proper ventilation and dry design, mildew and moisture can make your life miserable. "Proper" ventilation doesn't mean "adequate" ventilation, but super ventilation. There isn't an enclosed space on any of our yachts that can't have both opening ports and one or more overhead hatches in addition to companionways. Count the possibilities for opening hatches and opening ports on any CSY yacht and compare with any yacht you may be contemplating. There is no comparison.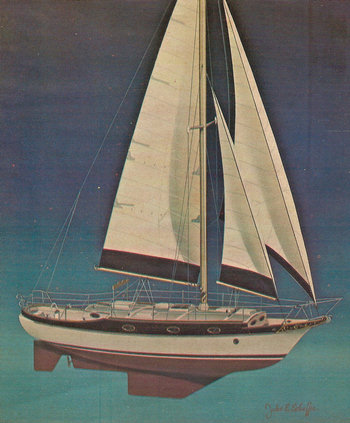 Liveability

All CSY yachts are designed to be lived aboard for long periods of time. Even forever, in comfort and privacy. Just what is comfort aboard a yacht? 6" cushions instead of the usual 3" or 4" ones. Hatches with high lips, means a dry boat. Can you think of anything more important? Oversized beds, not bunks, designed fore and aft, not athwartships. A minimum of 6'4" headroom, going to 6'7". A slow running diesel, insulated and out of the living areas, with a quiet exhaust system. A large, convenient, safe galley. Big heads. Ample showers with hot and cold pressure water. Fuel and water tankage so you don't have to worry about it for weeks at a time. Broad and uncluttered decks. Battery condition guages. An electric windlass for hauling in the anchor. A circuit breaker panel for all electrics. An electric bilge pump backed by a big hand pump that doesn't require the endurance of Charles Atlas to pump it. Liveability, in short, comfort, is one of the things that makes you really love your boat. She's designed and built to live aboard for extended periods away from any base of supply.
Sailability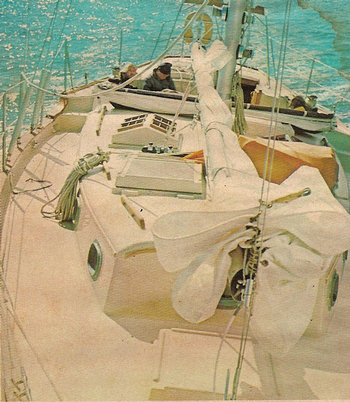 Because sailability is the ultimate proof of a successful cruising yacht, CSY has every new yacht design thoroughly tank tested. Our 44 and 37 were tested against a modern, one-ton racing machine and the results were almost identical.

CSY Yachts are designed to be stiff sailers. Their heel in 35 knots of apparent wind, or about 28 knots of true wind speed, under full sail, is only 30 degrees. Only then is the rail barely under.

As a practical matter, at 28 knots of true wind speed, the one-tonner would be reefed way down with a crew of deck monkeys working like hell. At that point the one-man crew on the CSY yacht would just need to start to think about reducing sail.

CSY yachts are fast, safe, stiff, dry sailers with superior windward ability. Over-sized self tailing Barient winches are standard, making sail tending a breeze. These yachts can take anything the sea can dish up. They have around-the-world capabilities. That's not an advertising slogan. That's the truth.

Low Maintenance and Durability

Low maintenance and durability are determined by the quality and kind of construction and the selection of equipment that go into a yacht. But design plays its role too.

A totally accessible engine area is fundamental--so the engine can be easily worked on or removed without tearing the boat apart.

Electrical wiring should be out of the bilge, accessible and coded to know what goes to which.

Water tanks should be designed with large cleanout and access plates. The bilge should be deep with a large capacity and gel coated for easy cleaning. Chain plates should be easily accessible for inspection and repair. All bolts through the deck easily accessible from both sides with backup plates.

Lets face it. As the world's largest charter boat organization, we have to care about maintenance. And we build for it.
Convenience

With convenience a yacht can be a dream. Without it, absolute pandemonium. We put a lot of time into planning for convenience. All living and working spaces inside a CSY yacht are conveniently related one to the other. The galley to the cockpit and to the dining salon; the heads to the sleeping areas, etc. We have made it a short and convenient climb from the inside of our yachts to the cockpit. The engine is totally accessible and can be easily reached in and out of the weather. The place for the electronics is convenient to the chart table. A fully insulated beer cooler is next to the helmsman's seat. And for convenience and flexibility of handling, our yachts are ketch or cutter rigged, which is why they are the preferred rigs for cruising yachts.

Safety

CSY has put a lot of thought into the design of safety features. We have eliminated steep, high ladders at the companionways. No matter where you stand in a CSY yacht, there is a handhold within arms reach. In addition to effective, restorable non-skid surfaces, CSY yachts feature deep bulwarks forward to prevent sliding off the deck in high seas. They also feature good deck and cockpit lighting for night cruising. Plus a well-designed quick draining cockpit.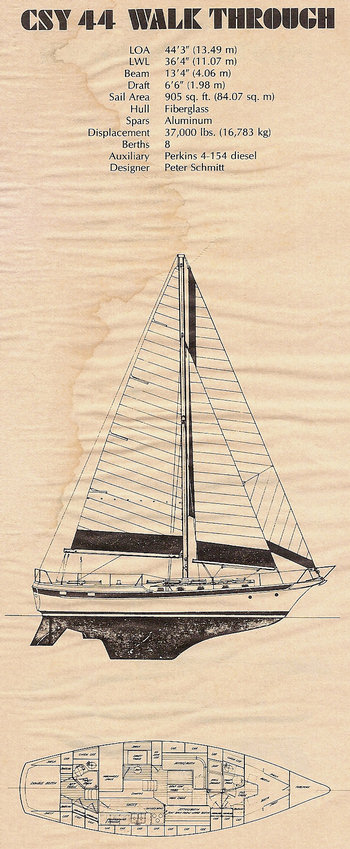 On the New CSY 44 Walkthrough
We have stated many times our preference of no walk-through in the mid-cockpit configuration, and have so stated in our book, the CSY Guide to Buying a Yacht, with our reasons. However, we aren't everybody and everybody should have a choice. Heretofore, we have only offered the alternative. Now we offer the choice of a walk-through model which corrects what we object to the most in a walk-through, an ugly, ungainly boat.

Peter Schmitt has managed to come up with a really beautiful design by raising the saloon, minimizing the long climb to and from the cockpit. It also adds the extra dimension of large windows in the saloon, which add the light and airiness rarely found in this configuration.

To be sure, some storage and tankage has been sacrificed as in any walk-through. But this is trade for an extra large galley and chart table, and the inside connection of the aft and forward sections of the boat. This is for those who spend a lot of time living inside their boat.

The CSY 44 Walk-Through sails well. We know that because she is built on exactly the same proven hull as our other CSY 44 models. She is built to the same heavy specifications as her sister, with bronze ports, bronze hardware below, stainless steel propane stoves, stainless steel hardware on deck, extra-heavy rigging, and the Perkins 4-154 diesel--everything that places a CSY yacht head and shoulders above any other yacht.
For a lot more info on the history of CSY's and their very quality-conscious builder, see Ed Marill's piece on
The CSY Story.
To meet and talk about CSY's with other owners, contact the CSY owners group at csyowners.com
CSY 44 Walk Through on Wikipedia
CSY 37 Review in December 2014 Practical Sailor
---
Bareboat charter pioneer remembered
Jack Van Ost Obituary, May 2006
Jack Van Ost, a New Jersey dentist, father of eight and pioneer in yacht chartering, has died in Sun City Center, Fla., at the age of 83.
Van Ost, founder of Caribbean Sailing Yachts, opened one of the first Caribbean charter bases, operating first out of Red Hook, USVI, then Tortola, BVI a year later. CSY started its first winter charter season in 1967 with 16 Chris-Craft Capri 30s. At its height in 1981, the company was chartering 186 sailboats from bases in the Florida Keys, Roatan in Honduras, the Bahamas, Tortola and St. Vincent in the Grenadines. He introduced many innovations now common in yacht chartering: standardized and easy-to-maintain fleets, boats designed for charter, provisioning, owner lease-back programs, a sailing school, a manual to familiarize customers with boat systems and cruising grounds, and a system for qualifying clients to charter a boat.
"He was the father of the bareboat industry," says Butch Ulmer, president of Ulmer Sails, of City Island, N.Y., who supplied most of CSY's sails. "He was the guy who started it all. It was his vision."
Van Ost conceived the idea of a charter fleet made up of identical boats — uniformly maintained and equipped and operated from a base with a marina (and later a small hotel) — after a particularly memorable Bahamas charter with friend Bob Gibson, says Van Ost's son, Robert, of Tampa, Fla. The friends often had cruised with their wives on Gibson's boat in New England and wanted to go somewhere different — a new adventure, so they chartered in the Bahamas.
"They had the vacation of a lifetime, but everything that could go wrong, did," Robert Van Ost said. They chartered a 30-foot Pearson from a private owner in Florida, sailed it across the Gulf Stream, lost their dinghy, tore their sails and hassled with a broken-down engine.
"Jack figured there must be a better way," said Don Walsh, Van Ost's Tortola base manager for 10 years and now U.S. representative for German builder Hansey Yachts. Van Ost found 12 Capris sitting in a dealer's parking lot in Michigan, bought them at a deep discount, added four more from private owners, fitted the boats out in Essex, Conn., chartered them there for a summer, then moved them to St. Thomas.
"A lot of the people I talked to thought he was nuts," Ulmer said, but Van Ost was firmly convinced he could make his vision for chartering a reality.
Operating out of a big house in Tenafly, N.J., Van Ost continued to practice dentistry on the first floor for many years while staff ran the charter company's reservations and administrative operations from the basement, and he and his family lived on the upper floor.
"That place really bustled," recalled Ulmer, a good friend of Van Ost's. "I'd go over to his office in Tenafly, and he'd have someone's mouth full of cotton and he'd be drilling." Van Ost would keep right on drilling while he talked charter business with Ulmer.
Ulmer said Van Ost was extremely direct — downright blunt — in his business dealings. He was scrupulously honest, Ullmer says. "Too honest for his own good sometimes."
Walsh tells of one charter that ran afoul of the law because the charterers turned out to be drug smugglers. Cuban authorities stopped, boarded and seized the CSY vessel — along with a load of marijuana — off the Isle of Pines, and never gave the boat back to CSY. Van Ost continued to pay the boat's owner charter fees for the last seven years of his charter lease-back contract, and after the contract ran out paid the owner the full purchase price of the boat.
"His word was as good as any contract," Walsh said.
Walsh said there was just one other charter fleet, Dick Avery's Boathouse with its handful of Pearsons, in the Virgin Islands when Van Ost introduced his Capris.
"The BVI was undiscovered then," Ulmer said.
Van Ost, a tireless and creative promoter, tried to change that. In fall 1966, Robert and his parents chartered a 22-foot sailboat to cruise the Virgins and take soundings, notes and photographs. Within a year of opening the charter base, Van Ost had authored the "Yachtsman's Guide to the Virgin Islands," the first guide to the Virgins and one of five books on cruising he wrote, including one on how to buy a boat.
Van Ost's early charter advertising was directed mainly at New England boaters. He ran ads with the waters of the Virgin Islands superimposed over Long Island Sound to demonstrate that it was easy to cruise the islands: The distances between destinations in the Virgins weren't a whole lot different from those on the Sound.
By 1969 Van Ost had come to realize that he needed a boat designed specifically for cruising. Working with designer Alan Gurney, he developed the Carib 41, a design with a fore-and-aft stateroom separated by a huge center cockpit, which gave privacy to two couples or a couple and their family at both ends of the boat and a common area — the cockpit — in the middle for socializing. The layout is common today, but it was a "first" in 1969. That year, Van Ost went to the New York Boat Show with the first charter lease-back program in the industry, for his Carib 41. A private owner could buy the boat, put it in charter as a business, receive monthly payments, get a tax break and use the boat for a month or so every year.
In 1976 Van Ost and his team designed with Peter Schmitt the CSY 44, a boat Van Ost wanted to be the ultimate cruising boat — tough, fast, comfortable, seaworthy — the culmination of all he'd learned about the demands of cruising. Thirty years later it still is considered one of the great cruising boats, but the design led to a decision that would ultimately sink CSY. Unable to find a builder who could produce a boat of sufficient quality at the price he wanted, Van Ost decided to build the boat himself in Tampa.
CSY quickly became the sixth-largest sailboat builder in the country, building 400 boats from 1977-'81, but Robert Van Ost said a one-two punch of 20-percent interest rates and a half-million-dollar deficit at the outset of the venture dogged it to the end. When Van Ost decided not to use an existing builder to construct the 44 and build it himself, he felt obliged to give back all the deposits he had taken on the 44s, some $500,000 altogether.
Walsh said, too, "We were a bunch of sailors building boats. We needed more bean counters. We sold the first 70 boats for $68,000 [apiece] and they cost $73,000 to build."
CSY Yacht Corp. sucked so much money out of the charter business that it never recovered, Robert Van Ost said. The building operation closed in 1981, and 10 years later the charter company closed, handing over its remaining bookings to The Moorings, he said.
John "Jack" Van Ost was born in 1923 in Hackensack, N.J., the son of the late John William and Katherine Romeyn Van Ost. He served as a captain in the U.S. Army in World War II and earned a DDS in general dentistry from the University of Minnesota in 1944. He served on the board of education in Tenafly and as an elder in the Presbyterian Church there, and taught on the dental faculty at Fairleigh Dickinson University. Van Ost remained active in his retirement and was named volunteer of the year for starting an accelerated reading program and organizing volunteers to teach English as a second language to elementary school children in Wimauma, Fla. His wife, Jane Helen, died before he did.
Van Ost left his mark on both boating and people in boating.
"He was an innovator," Ulmer said. "It was a great privilege to know Jack and do business with him."